"
Khiladi Series Returns But Khiladi didnt Return
"
Cast

:
Akshay Kumar, Asin, Mithun Chakraborty and Himesh Reshammiya
Director
:
Ashish R Mohan
Well So our Khiladi Bhaiya Follows Same Rowdy Rathore style Style in this Movie again. I dont know what's got in such Big stars who are desperate for Such Movies.
Well, But apart Super Action ,, everything is just like a legit Akshay Kumar Movie,, Where Akshay Kumar Tries to entertain Public by Cracking some Jokes in some serious moments and follows his style.
There's nothing New in this Movie,, same old a Punjabi Guy,a Marathi Girl, and a Gujarati boy making a Love Triangle. Akshay tries to become Punjabi Devdas, justifying His Role. Movie is Normal Masala Movies with Lots of Action ( Super Duper Action) , just made to entertain Masses.
The Movie is Kind of Based on Just Three lines "a Manly Punjabi
munda
whose fists are as fast as lightning when he takes on the Villains ,breaking down anything in his way just by some manly Fists, who simply wants to marry ;
A Hasty Marathi
mulgi
who turns into a maniac when she gets behind the wheels of a car besides being Daughter of Mumbai Don ;
A Romeo and luckless
Gujju
boy who cannot stay out of trouble
,
spending most of time of Movie in Jail."
So, You may see that Script is what kind of Shit.(Well, how can i even think of scripts in such Movie) and Yes This Time "Himesh Reshammiya" is Scriptwriter. Now,, let's come to Main Story Point of View.
It goes with Himesh Reshammiya being a match maker,, who tries many jobs but in last he joins his Father's Traditional Job which a Match Maker and tries to Prove himself. Well in the end, he gets successful . And His Success Imparts this movie , As he Promises to Mumbai Don that he will find some Nice Groom for his Daughter(Asin). And that Groom Ends to be Akshay Kumar, A Punjabi Cop.
Thus Movie starts with such
Concoctions and Funniest moment strikes all of them are assembled
for Wedding,,, there's about 20 minutes of this scene,, everybody trying to hide what he/she is.
And Yes that's Kind of Last Funnies Moment so enjoy it,, since Action will start after it.
So, as i said Story all same as old Super Duper Action Movie with some new concept of Love Triangle.
Akshay Follows Salman Khan Breaking Walls ,, taking down an army of Masses by Himself,, and lots of all same action where Hero ( Well, This is not a Hero is supposed to mean,, They are super Heroes) rule .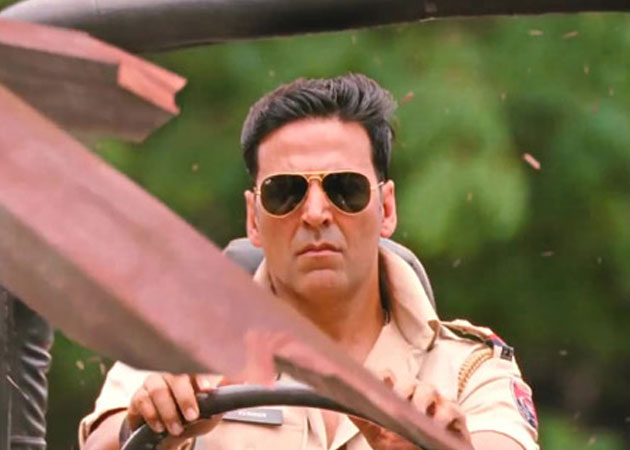 as you may See in Picture ,, Akshay kumar Taking down a Barricade with any prior Problem just by striking it by A jeep( Poor Barricade, :P)
Now coming to Music,,, I guess it's needless to say that Akshay Kumar's Movie is always full of Nice Music. And Thus following the lines of Perfect Masala Movie with many good songs.
There are many good tracks of movie which we have already listened to as " Hukka Mar"
Coming To Direction,, It's been very good in this movie,,,and yes that's last thing you want going down in such Masala Movies, thus Ashish R Mohan has Proved Himself. I guess you guys remember him from Golmal series... He is the guy who was Assistant Director in all those movies helping Rohit Shetty.
I guess most of you will be Confused why I wrote
"
Khiladi Series Returns But Khiladi didnt Return
",, Well Truly Khiladi Series returned but that Khiladi depicted by Akshay Kumar at that time was no where seen in Movie.
I Hope you guys Liked it.. If you Liked it then Subscribe to me or Share it with your friends on facebook,twitter,etc by above button.
RELATED CONTENT :